Help Me Grow
A child's early years are vital.
Many parents wonder if their child's growth is on track for their age. With Help Me Grow at Delaware 2-1-1, parents don't have to wonder. Help is a call away!
What Is Help Me Grow?
The HMG system is a framework that brings together child-serving partners to improve early childhood services. Help Me Grow 2-1-1 is a one-stop-shop that offers programs, services, and helpful information for parents-to-be and families. Looking for housing? Looking for diapers? Need heat in the winter? Concerns about your child's early development? That's when you call Help Me Grow 2-1-1.
Help Me Grow (HMG) Delaware is part of a larger coalition of over 30 states that are related to the Help Me Grow National Center to promote early childhood systems to improve and provide innovative services for families with young children nationwide. Delaware's program begins prenatally (before birth) and continues through age eight (8).
HMG focuses on supporting young children's healthy development by connecting families with community resources. It is not a stand-alone program but rather a system model that utilizes and builds on existing resources to develop and enhance a comprehensive approach to early childhood systems -building in any given community. Through comprehensive physician and community outreach and centralized information and referral centers, families are linked with needed programs and services.
What Can Help Me Grow Do?
A child's early years are vital. They shape their entire future. Help Me Grow at Delaware 2-1-1 helps parents provide a safe and stable environment for that growth. Whether it is support, pregnancy help, or finding essentials like food or housing, Help Me Grow has the tools for parents to succeed. Just dial 2-1-1 on any phone.
The 2-1-1 Help Me Grow helpline is all about support. There is much to know when it comes to raising a child: When should they be able to roll over onto their back, how much breastmilk should a baby drink, or where can a special needs child get help? If parents are in doubt, dialing 2-1-1 can put their minds at ease. This confidential and free service will put callers in touch with an experienced specialist who will listen and link you to further assistance.
Help Me Grow's Four Key Areas
of Activity
Centralized Access Point (CAP) through HMG/2-1-1 ensures everyone has help when they need it, with a simple number to dial.
Community Outreach means our specialists are out in the community to understand the people they serve.
Physician Outreach helps to inform health care providers about developmental screening as well as the helpline, so that caregivers and families will be better served.
Data collection and analysis to improve the system and create change to ensure health equity for all.
Examples of How Help Me Grow
Can Help
10-Years of Outcomes
& Impact
19,693 Total number of calls and 17,076 children served through HMG's centralized access point @ 211
110,210 Total number of the top requested needs by a parent/caregiver; these include: Home Visiting, Basic Needs (clothing, car seats, furniture), Diapers, WIC, and childcare.
14,574 Total number screenings completed through community outreach activities
11,961 Total number of referrals to targeted service providers by HMG @ 211
11,571 Total number of parent/caregiver reported Behavioral and Developmental concerns to HMG @ 211
Hours of Operation
2-1-1: Monday through Friday, 8 a.m.–9 p.m.
NOTE: If you have an EMERGENCY, dial 9-1-1 or your local emergency response number.
In addition to calling the Delaware 2-1-1 Help Me Grow helpline, you can text your ZIP code to 898211 from 8 a.m. to 5 p.m., Monday through Friday. A Child Development Specialist will respond to inquiries via text message within 15 minutes.
Providers & Community Partners
Additional Resources
Below are resources and outside services that can help.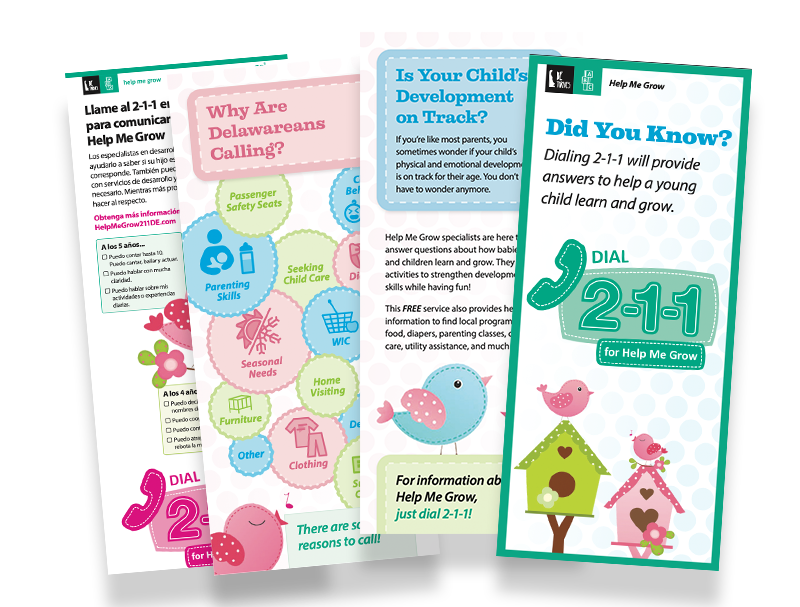 Order materials
Free resources
Need posters, brochures, fact sheets, and more? We have materials to help you share information for every
life stage.