Providers and Community Partners
Community Health Workers
Community Health Workers (CHW) serve as a connection between health/social services and the community to simplify access to services and improve service delivery. CHWs aim to build individual and community capacity to improve health outcomes through a variety of activities such as outreach, health education, informal counseling, social support, linkages and referrals to health care, as well as community resources such as financial coaching or housing.
How can a Community Health Worker help?
Are you a woman living in the city of Wilmington, Southern Kent County, or Western Sussex County?

Are you 15 years of age or older?

Have you gotten off track with a healthy lifestyle?
A Community Health worker can help.
It's easier than ever now to achieve a healthy lifestyle with ongoing support from our

Community Health Workers (CHWs)

, managed by Quality Insights.
Learn about access to resources and programs in your community.
Develop new skills to meet your daily health goals.
Make an appointment today
Call 302-416-0562 to make an appointment today to talk with one of our Quality Insights Community Health Workers, or CHWs. You'll receive a Healthy Woman Lifestyle Assessment. This assessment will help them customize a community resource list and program that is tailored just for you.
Or you can fill out the quick survey below and we'll be in touch.
Take the survey
Resources
Below are resources that can help.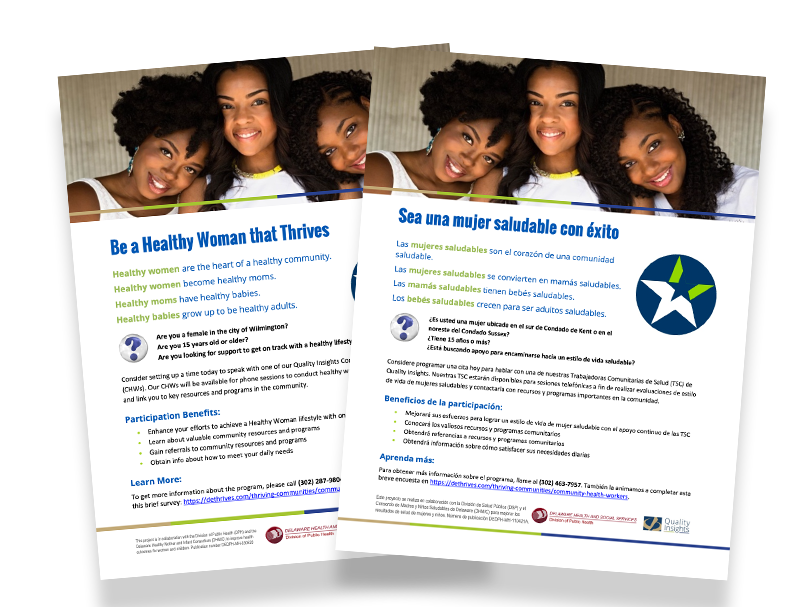 Order materials
Free resources
Need posters, brochures, fact sheets, and more? We have materials to help you share information for every
life stage.